It was the night before our toddler play date:
ACat:  "Mommy, what are you doing? I'm a doctor (referring to her Doc McStuffins kit), let me help."
Me:  "I'm mopping for tomorrow's play date so the mommies of your friends do not think we are slobs."
ACat:  "What?!"
And then my toddler with her mop head of curls watched in shock/awe/curiosity from our staircase as I frantically mopped our living room floors the night before we hosted our very first play date.  Apparently, the fact that I am mopping is entertainment for my child.  
Luck?  Skill?   Forgetfulness?  Not sure of the reasoning, but we some how escaped hosting a play date in our home for almost 3 years.  I guess it is so much easier to meet at a local park.
After seeing how happy ACat got following her play dates, my husband and I decided that now was the time to enter the life as a play date host.
Into the deep end we went….
Toddler Play Dates in a Nutshell: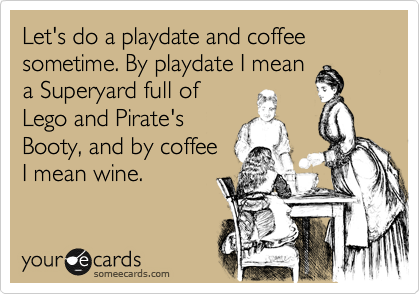 Organizing and hosting a toddler play date seems intimidating.
Is your child ready?
Is your home child proofed enough?
Can you handle the noise?
What if ______?  Fill in the blank for the what if of problems.
Having hosted our first toddler play date, I have to say it was easier than I anticipated.
Below are 9 tips to help make your toddler play date a breeze.
Tip #1:  Choose Your Guests Wisely.
While I am sure your toddler has a "best friend", I am willing to guess that BFFs change about every couple of weeks in the toddler world.   We involved ACat in our guest list planning, but my husband and I closely looked at the parents too.  The personalities of all of our guests needed to gel with us.   This may sound harsh, but think about it, while the toddlers are off trashing a room, you'll want interesting and engaging adult conversations.   How many people to invite?   To have a good mix, we invited 4 families over.  This is on the larger side, so you may want to start with just 2 families.
Tip #2:  Timing Matters.  
Meltdowns are possible at any time in the toddler world. In my house, it seems like the 10AM to 11:30AM spot is typically calm (so long as mercury is not in retrograde).   We rolled the dice and hit the jackpot with that time block.  No meltdowns and all  happy  campers.
Tip #3: Limit the Toys.
Toddlers in a playroom can cause some serious destruction (I am sure toddlers in an empty room can cause destruction too).   See Exhibit A, here.   Given the mess factor, I decided to limit their options.   I gave ACat and her friends three choices:  blocks, trains, or play food.   They picked blocks, so I brought out a few block related options.   Limiting the toys and having all of the children help clean up made the play date much more enjoyable for my husband and me.
Tip #4:  Stock-up Your Bathroom.
Since ACat and her friends have good days and bad days with potty training, our bathroom was stocked with diaper wipes, disinfectants, and paper towels for any parent to clean up an accident.
Tip#5:  Prepare a Snack Tray.
Toddlers love to be self-sufficient.   Pinterest is probably full of ideas for cute snack ideas  for a toddler play date.   Let's be real – a)  time is limited and b) looking like an overachiever among local moms is not the way to make friends.  I simply pulled out a tray, and put a sampling of snacks from out pantry out. The kids loved it and asked about it when I put it away.  Here is a snapshot of our toddler play date snack tray – took 2 minutes to prepare (and that included finding a snack for my own kid):
Tip #6:  Don't Forget About the Coffee.
Need I say more.  Only thing I missed was offering some Baileys to go with that coffee.
Tip #7:  Be Mindful of Pets.
A gaggle of toddlers is pretty intimidating to adults. Now imagine being a pet.  To keep the peace, I recommend keeping the pets away from the toddlers.   For helpful tips, please check out my latest piece on ASPCA Parents.
Tip #8:  Hide All Contraband.  
Obviously dangerous items like cleaning supplies need to be secure, but did you check under the couch for a rogue crayon?  For the safety of the toddlers and the protection of your walls and furniture, take 5 minutes to scan for dangerous items.
Tip #9:  Have a Back-up Meal Plan.  
We elected to serve lunch (not a requirement at all!) because I always feel you need to feed guests in your home.   Toddlers are picky, so be sure to have a good alternative.    In our case, we had yogurt to offer in case a child did not want pizza.
We survived.  ACat was happy.  Our walls were crayon free.
What are your tips for a successful play date?